Sex charge DJ Basshunter 'shocked' teenager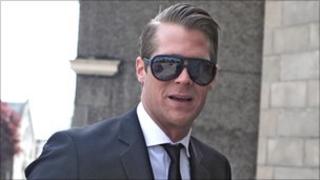 A teenager has told a court a celebrity DJ "shocked and embarrassed" her by allegedly making a crude sexual remark and forcing her head into his groin.
Jonas Erik Altberg known as Basshunter, is on trial at Kirkcaldy Sheriff Court accused of sexually assaulting two teenagers in a Kirkcaldy club.
He is alleged to have grabbed one girl by the hair and pushed her head towards his groin on 10 December 2010.
Mr Altberg denies the charges and the case continues.
Giving evidence, the 19-year-old woman told how she went to Kitty's nightclub to see Basshunter with her cousin on 10 December last year, and the pair queued for photos with him afterwards.
As the women approached the star, the court heard Mr Altberg allegedly made a crude sexual remark towards the teenager's cousin.
The teenager told the court that they were "surprised" by the remark "but tried to laugh it off" and proceeded to pose for photos with him.
She said: "He grabbed our heads and pushed them both towards crotch level."
She said their heads did not come into contact with Mr Altberg's crotch.
Pulled back
She added: "As we got back up there were flashes going off, but I don't know if there were any other photos taken.
"We went to leave the VIP area but (the cousin) was pulled back. She was held round the waist and bent over, and her dress was lifted.
"Her dress normally sat just above the knee, and it was lifted to around waist level. She was wearing a thong underneath.
"He pulled up her thong, exposing her bottom from behind, and then skelped her on the right hand side of her bum."
The teenager said she watched Mr Altberg, who was described as "drunk and hyper", engage in similar behaviour with other women afterwards.
She added: "The other girls seemed fine with it, but I didn't know them so it wasn't for me to judge their reaction.
"He wasn't very polite. He came across as not as nice as people have made him out to be."
National newspaper
The court heard that the two women left the club less than an hour later and went home in the early hours of the morning.
She said she was "shocked and embarrassed" by the incident but did not contact the police immediately.
The court heard the second woman contacted a Scottish national newspaper later that day and told a journalist about her experience, before contacting the police.
Ian Duguid QC, defending Mr Altberg, asked the teenager why her cousin would contact a newspaper before contacting the police. She said she "didn't know".
Mr Duguid added: "The obvious implication is that she would get some publicity from it."
The teenager added that it "wasn't about the publicity", and she went to the newspaper because "she didn't know who to turn to".
Mr Duguid said: "There was a subsequent conversation with the newspaper in which she asked to be paid some money.
"Do you say that you don't know anything about her being paid £100?"
The teenager replied: "No."
The teenager also denied she had avoided several attempts by Mr Altberg's solicitors to contact her for a statement, saying that she was busy with exams at the time.
The case is scheduled to continue on 14 June.