Edinburgh parents urged to drop extra nursery year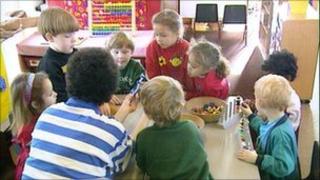 Parents are being urged to ignore the current trend of holding children back for an extra year in nursery before sending them to school.
More parents in Scotland are following European countries, where children start school at about six years old.
But Edinburgh city council's education convener said research suggested the practice could disadvantage children.
However, some academics have claimed the extra year in nursery gives children more time to mature.
Writing in the Edinburgh Evening News, education convener Marilyne MacLaren said the current "fashion", which had seen an increase in the number of parents requesting to defer their child's entry to primary school, had been driven by "the best of intentions".
She accepted some parents were concerned their child may too young to start school and that their development might be harmed by transition at such a young age.
But she argued that "in these times of child-centred education, 'getting it right for every child' and curriculum for excellence, these presumptions need to be challenged".
Cllr MacLaren said she had reached her opinion based on the work of an Edinburgh Council child psychologist, who had analysed 36 research papers written about delayed school entry.
Cllr MacLaren wrote: "Initially the eldest children in a school year may make faster progress but by the end of primary three this difference is no longer evident.
"Children who have their entry delayed will reach the school-leaving age of 16 before completing all of their education.
"Studies find that these children tend to drop out of secondary education earlier and, in some cases, it means that they can finish school without completing their exams.
"It's also apparent that some research found a higher rate of social and behavioural difficulties at secondary level amongst children who had their school entry delayed."
She added: "I have become convinced that we should not be deferring a child's entry into primary one as a matter of course or just because the parents want it.
"The only reason for keeping a child for another year in pre-school would be because all the evidence points to the fact that it would be in the best interests of that particular child and that there was a clear indication of developmental delay."
'Astounded'
However, Cllr MacLaren's view has already come under fire.
Professor Henry Maitles, from the University of the West of Scotland's school of education, said he was "astounded" when he heard the proposal.
He told BBC Scotland: "I had assumed the debate was going exactly the opposite way - that we were sending our kids to school actually too early compared to almost all other European countries.
"It doesn't seem to me that there is any advantage whatsoever in sending our kids to school earlier and indeed the debate should be looking at sending them later, not earlier."
Prof Maitles said in most European countries, children at the age of about six started primary school after going through a play-based nursery curriculum.
'No evidence'
He continued: "In some countries - Scandinavia for example, but in particular Finland, which is seen as having the best educational system at the moment - they start school at seven.
"There is no evidence whatsoever that these children do 'worse' in terms of the broader sense of achievement than our kids.
"In fact, all the evidence suggests their educational system is developing at a better rate than ours is at the moment."
Prof Maitles added that his "immediate thought" about the proposal was that it was a council "cost-cutting exercise", by cutting back on nursery provision.
The council later said it was untrue to suggest cost-cutting was a motive for discouraging the extra year in nursery.