Jeanne Marchig vet training centre opens its doors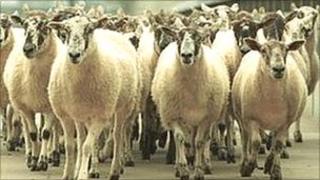 A new £2m centre focusing on international animal welfare has officially opened in Midlothian.
The Jeanne Marchig International Centre for Animal Welfare Education is part of the University of Edinburgh's Royal (Dick) School of Veterinary Studies.
Academics said it would "empower" vet students to work across the world.
It will collaborate with international partners to deliver wide-ranging educational initiatives catering for different audiences and cultures.
The centre aims to strengthen education on animal welfare issues for students at the vet school.
It will also prepare them to work in different countries and address concerns about the animals' wellbeing, ranging from the care of working animals to that of wild animals in captivity.
The centre will also become involved in the political debate on animal welfare and protection issues.
Professor Natalie Waran, director of the new centre, said: "Enhancing the animal welfare science content and incorporating more opportunity for ethical debate within veterinary education will give veterinary graduates the skills, knowledge and confidence to contribute positively to discussion on animal welfare issues.
"We are living in an increasingly globalised world and we need to empower veterinary students so that they feel they can be informed animal ambassadors in both a national and international arena."
The centre is to run an international animal welfare seminar series, working with partner organisations to improve animal welfare, as well as looking at providing professional development for trained vets.
It is already forging links with welfare and veterinary organisations in China and India.
The centre has been set up following a £2m donation from the Marchig Animal Welfare Trust.
'Free from suffering'
The trust's founder Jeanne Marchig said: "This is a very exciting initiative in which animal welfare will play an integral role in veterinary education.
"The world needs veterinarians who are not only professionally competent but also compassionate with high ethical values.
"Vets are at the core of safeguarding animal welfare and through the centre, they will be provided with the skills necessary to enable their voices to be heard in order to ensure that animals across the world are free from distress, suffering and hunger."
The centre is part of a £100m development at the Royal (Dick) School of Veterinary Studies' Easter Bush campus, which includes a new £42m teaching building.