Man convicted of childhood rape bid on girl, aged five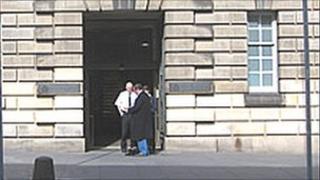 A 21-year-old man has been put on the sex offenders' register for two years for trying to rape a five-year-old girl when he was 12.
James Weir, 21, from Fife, was also put on probation for two years for the offence, committed nearly 10 years ago.
Weir pleaded guilty at the High Court in Edinburgh to attempted rape between January 2002 until September 2002, at an address in Dunfermline.
Lady Smith said it was impossible to treat all offences in the same way.
Whole facts
At the High Court in Edinburgh, Lady Smith said if it had come to light at the time, Weir would probably never have been brought to court.
She said: "It is all too easy to assume that the only appropriate sentence for the crime of rape or attempted rape must be a custodial one.
"But if any court were to do so, it would fail in its duty to consider the whole facts and circumstances of the individual case."
The court heard that Weir, from Kirkcaldy, who was living with foster parents at the time, had been getting sex education lessons at school when he turned his attention to the youngster.
Before being taken into care, he had come from a "chaotic" home where he witnessed sexual behaviour between his father and step-mother and was exposed to pornography
Weir's victim, who cannot be identified for legal reasons, kept silent for years before telling a psychologist what had happened to her.
Advocate depute Ashley Edwards, prosecuting, said Weir continued to take advantage of the girl every time he found her alone.
When questioned by police, he told them: "I'm sorry. I want to put it right."
Ms Edwards said the girl had been receiving counselling for an unconnected personal problem and told a clinical psychologist about the abuse.