Man guilty of fracturing baby's skull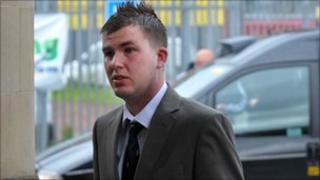 A man from Midlothian has been convicted of attempting to murder a seven-month old girl, while he was babysitting her.
At the High Court in Glasgow, Douglas Cooper was found guilty of fracturing the baby girl's skull in three places on 12 January last year.
He told the jury that it was just an accident and said that her head had bounced off the door.
The 24-year-old is due to be sentenced at a later date.
Throughout his trial Cooper protested his innocence and claimed that the injuries had been caused by the child falling from his arms and hitting her head on a door.
Earlier the court had heard from the baby's mother, who cannot be named for legal reasons.
She said that she had left Cooper looking after the baby while she was out playing for a pub darts team.
The mother told the jury that she had received a phone call from Cooper about 2055 GMT.
She said: "He sounded panicky. He said there is something wrong with her. He said she wasn't breathing properly and didn't look right."
She said that she was driven back to her home in a Midlothian village and saw her daughter lying on a couch not moving with her head to one side.
'Gasping for breath'
She told advocate depute Lesley Shand QC, prosecuting: "She was just gasping for breath."
The jury heard that a doctor carried out a CT scan which showed the the baby's head had been fractured in three places.
The woman added that while they were at the hospital after receiving the scan results she overheard Cooper, who had gone with her and the baby to the hospital, on the phone to his mother.
She said that they had just been told that police and child protection services would be involved and she heard Cooper say: "That doesn't look good for me."
She told the court that she recalled one occasion when Cooper lost his temper because his team Liverpool had been beaten and punched holes in a door.
The mother was asked by solicitor advocate John Keegan QC if she knew that Cooper claimed the fractured skull happened when he fell while holding the baby and she hit her head on the door and she replied: "According to him. I've heard five stories."
She admitted that she had told police that Cooper was patient and good with the baby when he looked after her.