Rising tide leaves boy stranded near South Queensferry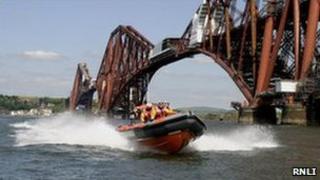 A boy has been rescued after he became trapped by a rising tide on the Firth of Forth.
Eleven-year-old Calum Fraser had climbed onto the top of a pipeline at the beach in South Queensferry.
His mother called the coastguard at about 1400 BST and a lifeboat was launched to pick him up.
A spokesman for Forth coastguard said Calum was returned unharmed to his family who were holidaying in Scotland from Buckinghamshire.
He went on to warn that there were strong tidal surges in the area which could catch people out, although it was unusual for anyone to get into difficulty on the town's shorefront.
Boy left shaken
However, there have been a number of incidents in which people have been caught out by the rising tide on nearby Cramond Island.
Calum, who is from Milton Keynes, was returned to his family on nearby Hawes pier within 16 minutes of the 999 call being made.
Despite his ordeal, he was reported to have been suffering nothing more than wet feet.
His mother Angela said Calum had spent 25 minutes clinging to the pipe before the crew of the lifeboat took him on board.
She said the family had been able to shout to him to keep calm but he had been left shaken by the experience.
She paid tribute to the RNLI and the coastguard for their quick action.