'Smell check' at Seafield waste treatment plant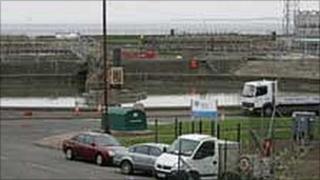 Councillors in Edinburgh have said they are determined to deal with any odour breaches around the Seafield waste treatment plant.
A monitoring regime is now in place to respond to complaints about Scottish Water's £20m investment in the plant which included odour control measures.
Officers from the council will record how often there is a smell and how long it lasts.
Local residents are also being asked to help record any changes in odour.
A one year improvement plan which started on 1 June will see 18 council officers specifically trained and able to respond quickly to any complaints about smell from the plant.
Scottish Water has been making improvements to the waste treatment plant over the last 18 months.
'Smell check'
Councillor Robert Aldridge, environment leader said: "We are going to work with the community to take firm action to make sure the money spent by Scottish Water will make a real difference to reducing the smell around Seafield.
"We can make sure that the plant is managed to the highest standards and that community concerns are addressed.
"Around 3,000 households in the area surrounding Seafield will be contacted to explain our plans and invited to take part in our smell check".
A Scottish Water spokesperson, said: "Scottish Water and its PFI partner Stirling Water UK will work closely with City of Edinburgh Council in respect of the newly constructed odour improvement works at Seafield.
"We have worked in close liaison with local community groups and elected members through our regular stakeholder group meetings, the most recent of which took place this morning, during the development and construction of the odour improvement works, and we will continue to do so during the forthcoming monitoring period."