Luke Mitchell's Supreme Court appeal bid refused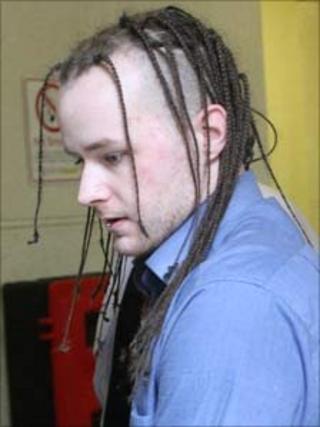 Convicted killer Luke Mitchell's request to refer his case to the UK Supreme Court has been refused by judges at the High Court in Edinburgh.
Mitchell was trying to get his conviction for killing his girlfriend Jodi Jones, 14, in Midlothian in 2003, overturned.
But judges dismissed claims that his human rights were breached when he was questioned by police without a lawyer.
The 22-year-old now plans to appeal directly to the UK Supreme Court.
Mitchell was given a life sentence in 2005 after he was found guilty of murdering his girlfriend Jodi Jones in Dalkeith when he was 14.
Under what became known as the Cadder ruling, the Supreme Court said in October that the Scottish system which allowed suspects to be held and questioned for six hours without access to a lawyer breached the European Convention on Human Rights (ECHR).
However at a hearing in Edinburgh Lord Justice General, Lord Hamilton and two other judges dismissed Mitchell's claim that his human rights had been breached.
Jodi's mother Judith and several other family members were in court for the decision, as they have been during every stage of the legal proceedings involving Mitchell.
Mitchell's mother Corinne was also present in court. She later vowed that "the fight will go on".
After the hearing, she stood next to spokeswoman Sandra Lean, who told reporters: "Luke did not kill Jodi. The person who did knows who he is, as do the people who shielded him all these years.
"This fight will go on until that person is where he deserves to be. Until he is, none of our daughters are safe."
Asked whether they would be going directly to the Supreme Court, she replied: "We will be."
'Crucial' to case
In light of the Cadder ruling, 867 cases were abandoned, including 60 serious cases, nine of which were High Court cases.
Mitchell, who was ordered to serve at least 20 years for the 2003 murder, claimed evidence taken from a police interview when he did not have access to a lawyer was "crucial" to the Crown case.
In April, Mitchell's attempt to challenge his conviction for murder following the human rights ruling was rejected by the Appeal Court in Edinburgh.
On Tuesday, he went again to the Appeal Court in Edinburgh to ask it to refer its decision to the UK Supreme Court in London but failed.
Two weeks ago, Nat Fraser won his appeal at the Supreme Court to have his conviction quashed.
Fraser, who was jailed after the High Court in Edinburgh heard he ordered a hitman to kill his wife, Arlene, in Elgin in 1998, had exhausted all avenues of appeal in Scotland.
The Supreme Court backed his appeal under Article 6 of the European Convention on Human Rights on the ground of the Crown's non-disclosure of evidence to the defence.
They sent the case back to the Appeal Court in Edinburgh to be quashed.
The Fraser case has led to a political storm over the role of the UK Supreme Court in Scottish criminal cases.