Dunfermline man who blamed 'sexsomnia' jailed for abuse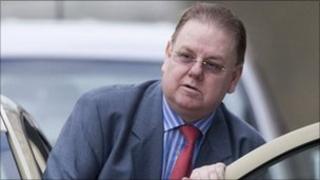 A financial advisor from Dunfermline who abused two girls over a 26-year period has been jailed for three years.
John Goldie, 58, claimed he suffered from "sexsomnia" a disorder which led him to carry out the acts in his sleep.
At a trial at Cupar Sheriff Court he was found guilty of five charges of lewd, indecent and libidinous practices between January 1982 and August 2008.
He was given an additional extended sentence of three years to be served in the community.
He was also placed on the sex offenders register.
The court heard that he abused the two girls, who cannot be named for legal reasons, at his home, in a country club and in vehicles on roads across Scotland.
'Justice done'
The 58-year-old has terminal cancer which he claimed was brought on by "stress" of the allegations.
The jury heard he claimed he had "sexsomnia" - a form of sleep disorder that causes people to engage in sexual acts while they are asleep, often with no recollection of events.
However, he later backtracked and admitted he said it to get the victims, who are now in their 30s, to drop their accusations.
Sheriff Mungo Bovey QC told him: "Your conduct was of the lowest kind."
Outside court, a relative of one of the victims, said: "Justice has been done."
The man added: "Goldie is a horrible, evil man. He has lied for days in this court and has made our lives hell.
"Justice has been done with the jury's verdict and we've just got to hope he is sent away for a long time for the damage he's done."