Cannon and anchor unearthed at Deep Sea World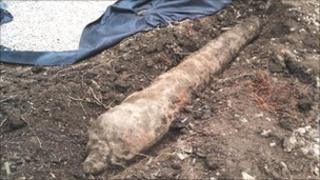 A 6ft cannon, weighing a ton, and a ship's anchor have been unearthed in an overgrown flower bed at a Fife aquarium.
The cannon and anchor were found by a gardener in the grounds of Deep Sea World in North Queensferry, near the attraction's entrance.
North Queensferry Heritage Trust has been drafted in to identify the items' ages and where they came from.
They are covered in rust and will be displayed at the aquarium.
Nick Hughes, Deep Sea World's maintenance manager, said: "This is the first time we've ever come across anything like this and, to be honest, I was a bit dumbfounded when we discovered them.
"The cannon was buried close to the surface and weighs a ton."
'Pride of place'
He added: "Once we've been able to find out a little more about it, our plan is to move it so that it can be given pride of place in the new sensory garden we're currently working on.
"Obviously the site of the aquarium has a rich and colourful history having been used as a quarry since the 18th Century and was used in the building of the Forth Rail Bridge.
"There are also records of a ship wrecking near Battery Quarry in 1866.
"This area has been heavily defended throughout history for strategic reasons, including the First and Second World Wars."