New Edinburgh Gaelic school plan backed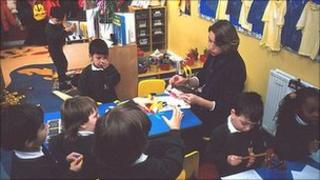 A dedicated Gaelic school could open in Edinburgh as early as next year after council officials backed the plan.
The choice was either to create a new school in the former Bonnington Primary or extend the current Gaelic centre at Tollcross Primary.
Councillors vote on the plans at the end of June.
The Scottish government has given a commitment to £1.4m funding for the dedicated school only and nothing for the Tollcross option.
Marilyne MacLaren, Edinburgh City council education Leader, said: "We have listened to all the points raised during the consultation and the recommendation being put before full council at the end of the month is for a dedicated Gaelic school.
"It is important however that before any decisions are made that we are clear how much it will cost to do this.
She added the costs had already increased due to the condition of the building, and called for further discussions with the Scottish government to establish how these extra costs would be funded.