Edinburgh set for Scotland's first Waldorf Astoria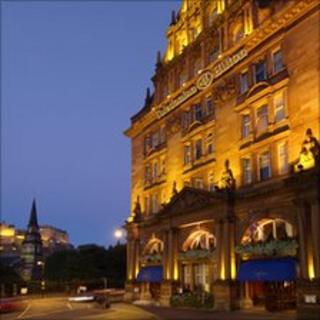 Scotland's first Waldorf Astoria is to open next year following an overhaul of a landmark Edinburgh hotel.
The Caledonian Hilton Edinburgh is to be re-branded as a Waldorf Astoria hotel on completion of a multi-million pound investment programme.
Hilton Worldwide said a total of £24m would be spent on converting the Caledonian by the summer of 2012.
The 241-room property, which stands on Princes Street, will be known as The Caledonian, a Waldorf Astoria Hotel.
The opening next year will mark the debut of the 127-year-old luxury brand name in Scotland.
A total of £10m has already been spent on enhancing the hotel with a further £14m planned as part of the conversion process.
Hilton said there would be a number of "additions and improvements" to the hotel's facilities and services including the public spaces, rooms, spa and restaurant.
'Unique products'
John Vanderslice, from Hilton Worldwide, said: "The introduction of the Waldorf Astoria Hotels and Resorts brand to Scotland demonstrates the realisation of our aggressive growth strategy which brings these authentic and unique products, and guest experiences, into markets where we believe there is significant growth potential in the luxury sector.
"The Caledonian will bring the core values of the brand to life, unified by our extraordinary service and singular experiences, through its distinct character, location and charm."
The announcement followed the launch of London Syon Park, a Waldorf Astoria Hotel in March this year.
This will also be joined by Waldorf Astoria Sevilla at la Boticaria, which opens in Spain later this year.
Waldorf Astoria Hotels & Resorts includes 24 destinations around the globe, with a further nine due to open between now and the end of 2014. Further additions will appear in Berlin and Jerusalem in early 2012.
Hilton's Scottish portfolio of 15 properties includes Hilton Glasgow, Hilton Garden Inn Aberdeen City Centre and Doubletree by Hilton in Dunblane.