Capital salute for Duke of Edinburgh's birthday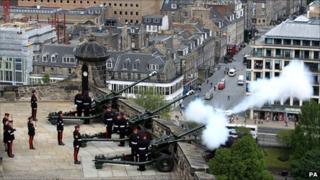 Gunners from 40 Regiment Royal Artillery the Lowland Gunners have fired a 21-Gun Royal Salute at Edinburgh Castle to celebrate the 90th Birthday of the Duke of Edinburgh.
As the Queen's companion for the past 60 years, the duke is the longest serving consort of a British monarch.
A spokesman for the regiment said it was a "privilege and honour" to carry out the salute.
A 62-gun salute has also been fired from Gun Wharf at the Tower of London.
Commanding Officer of 40 Regiment, Lt Col Baz Bennet, said: "As The Lowland Gunners we are delighted to be back in our homeland, it is always very special to conduct any public duties within the Lowlands and particularly in Edinburgh.
"40 Regiment see this as a privilege and an honour to be asked to conduct the Royal Salute."
Lt Col Bennet added: "In addition to ceremonial duties the Regiment is very busy preparing for future operations in Afghanistan, and we currently have personnel training in Northern Ireland, Germany, England and Kenya."