Edinburgh tram staff face redundancy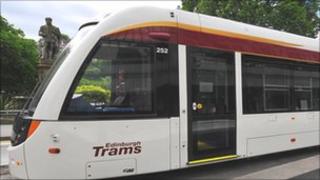 A number of staff at the company responsible for the Edinburgh Trams project could lose their jobs, it has emerged.
TIE has confirmed that a voluntary redundancy scheme has been launched at the firm, which has 60 full-time staff.
The announcement follows a dispute between TIE and its contractors Bilfinger Berger, which has halted work on the £545m project.
Tram work on Princes Street is now due to re-start in September.
A spokesman for Edinburgh Trams said: "We can confirm that in line with the next stage of the revised governance process, a voluntary redundancy scheme has been launched within TIE.
"This is only the initial pre-consultation phase and as yet, way too early to say how many individuals may be interested, or indeed, considered.
"As is standard process, we will be seeking the views of staff as to whether they wish to be considered for this and we will report back to the council after a period of weeks.
"There is also work ongoing to establish the future size and reporting mechanism for TIE and how this works more closely with the council.
"This in turn leads up to a full council discussion of the trams project in the near future."
In recent weeks a number of officials have left the company running the trams project.
Mandy Haeburn-Little is to step down from her post as TIE director of communications and customers services in July, after two years in the post.
Richard Jeffrey, 44, the chief executive has also left, having worked for the company for two years.
The previous chief executive, Willie Gallagher, also resigned after two years.