London 2012 Olympic torch arrives in Edinburgh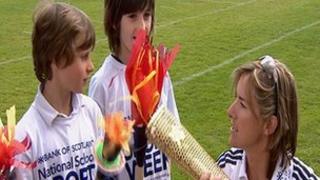 The London 2012 Olympic Torch has made its Scottish debut in Edinburgh.
Its arrival marks the start of a campaign to nominate people to help carry the torch in the run-up to next year's Olympics.
Scottish Olympic silver medallist Katherine Grainger welcomed the torch to Meadowbank stadium, along with pupils from a number of city schools.
It will be carried by 8,000 torchbearers on its journey around the UK, which starts on 19 May next year.
The Scottish leg of the relay will begin in Glasgow on 8 June, making its way round the country before ending in Edinburgh on 13 June.