Charity MoonWalk sees thousands on Edinburgh streets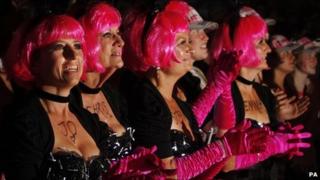 Thousands of people took to the streets of Edinburgh on Saturday night on the Moulin Rouge-themed MoonWalk for breast cancer charities.
The annual event saw women and men take part in either a half or full marathon midnight walk.
The MoonWalkers were decked out in fancy dress and decorated bras.
Many city's buildings were also lit up in pink, including Edinburgh Castle, The Balmoral and the Royal Bank of Scotland head office.
Nina Barough, founder and chief executive of MoonWalk organiser Walk the Walk, said: "It has been an absolutely amazing night.
"I don't think there has been another MoonWalk where I have seen so many people with such glorious bras.
"Everybody in Scotland, and this includes all of those who have travelled far and wide, are totally supportive and committed to what we are doing."
The event has raised £12.4m over the past five years with grants made to Maggie's Care Centre, Breast Cancer Institute, Edinburgh, and Breast Cancer Campaign.