HMS Illustrious in sea trials after £40m upgrade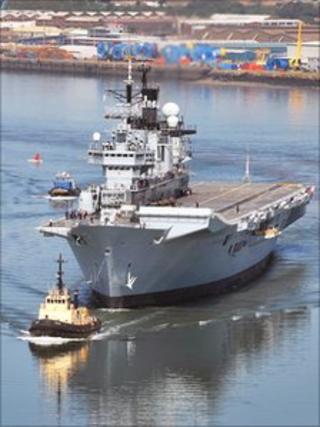 HMS Illustrious has begun sea trials following a £40m maintenance and upgrade programme in Fife.
The 22,000 tonne ship, known as Lusty, left Rosyth over the weekend, after 16 months in the dockyard.
The ship underwent modifications so it can carry 20 helicopters and 600 commandos.
Work included applying 540,000 litres of paint to the ship, including a fuel efficient outer hull coating that will save tonnes of fuel and CO2 emissions.
Captain Jerry Kyd, commanding officer, said: "This is an historic weekend for us as we sail from Rosyth for the last time and begin our preparation for our future role as a helicopter platform.
"We are in top condition for the challenges ahead thanks to the hard work of my sailors and the successful partnership that we have had with industry.
"We are now raring to go, ready to take this great ship to sea for trials, and then home to Portsmouth, where we will prepare for her exciting future role."
The work was carried out by a partnership of Babcock Marine, the ship's company, MOD and BAE Systems.