Chef Pierre Levicky cleared in food poisoning case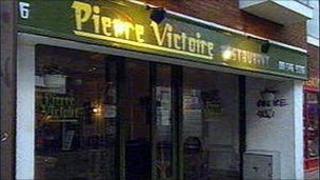 The French chef who made his name establishing the Pierre Victoire chain has been cleared of causing serious food poisoning to five customers.
Pierre Levicky, 51, was found not guilty of serving unsafe chicken livers at Chez Pierre in Eyre Place in Edinburgh's New Town.
It was claimed the restaurant gave two diners campylobacter and three others symptoms of food poisoning.
Mr Levicky had denied breaching food regulations on 9 November 2009.
Huge debts
The chef, who declined to comment as he left court, became well-known for establishing the Pierre Victoire chain of restaurants which grew to more than 100.
In the 1980s and 1990s the chain was associated with affordable but good quality food in a French bistro setting.
But it came to an end with huge debts in June 1998.
Mr Levicky left Edinburgh and headed to Paris but returned in 2008 and opened up restaurants again.
His current restaurants include Chez Pierre at Eyre Place, which has been now renamed Pierre Victoire, Chez Jules at Hanover Street and Chez Jules Fish at Cockburn Street, which opened in December.
Cadder ruling
His lawyer Jim Stephenson lodged an objection to Mr Levicky's interview with an environmental health officer on 24 November 2009, in which he was cautioned and interviewed.
He was not however given the right to legal advice and Mr Stephenson said the interview was inadmissible under the Cadder decision.
The Cadder ruling has led to a review of some aspects of Scots criminal law.
The Supreme Court ruled in October the Scottish system which allowed suspects to be held and questioned for six hours without access to a lawyer breached the European Convention on Human Rights (ECHR).
Sheriff James Scott ruled Mr Levicky's right was breached, sustained the objection and accordingly found Mr Levicky not guilty.
Last month Mr Levicky was cleared of attacking an environmental warden at his Eyre Place restaurant.
His not guilty plea to the charge which alleged he threw Barry Inglis out of the eaterie was accepted by the Crown.
The incident was said to have happened in July last year.
The restaurateur however pleaded guilty to failing to comply with a noise abatement notice between 3 November 2009 and 9 August 2010, following complaints that a noisy extractor fan has consistently disturbed residents living above the eaterie.
The court heard Levicky had spent £2,800 on replacing the fan and now had a good relationship with residents.
Sentence was deferred until next year.