Murder trial hears of concern for Carol Jarvis's safety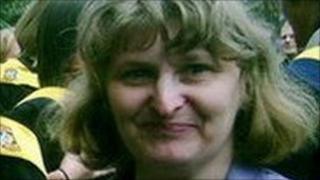 A daughter has told a murder trial she contacted the police two days before her mother's body was discovered in the family home in West Lothian.
Susan Jarvis was giving evidence at the trial of Rita Heyster at the High Court in Edinburgh.
Miss Jarvis told the court she was concerned for her mother's safety.
Rita Heyster, 57, denies murdering Carol Jarvis, 47, in Bathgate and blames her lover Harry Jarvis, 61. The trial before Lord Brailsford continues.
It is alleged between 11 September and 15 September 2009 at Balbardie Crescent, Bathgate, Ms Heyster, from Livingston, West Lothian, and Harry Jarvis, murdered his wife, Carol, "by means unknown".
Then, it is claimed, they failed to notify the authorities of the death, wrapped the dead body in a blanket and hid Mrs Jarvis in the basement of the house.
The trial is expected to last about four weeks.