Beattie siblings funeral follows Florida plane crash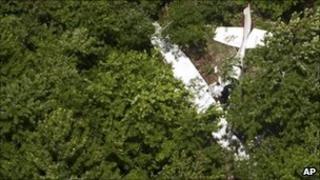 A service celebrating the lives of a Midlothian brother and sister killed in a plane crash in Florida has taken place in Edinburgh.
Carly Beattie, 21, was flying in a Cessna 152 with her brother Daniel, 24, when it crashed on 9 June in a wooded area near Blue Cypress Lake.
Ms Beattie was in America as part of her degree course and her parents and brother were visiting at the time.
The family, from Penicuik, attended a service at Mortonhall Crematorium.
The plane wreckage, which was found in a densely wooded and swampy area, was located by a mobile phone signal. An investigation into the crash continues in America.
About 80 people, dressed in colourful clothes as requested, lined the streets as the coffins arrived at the crematorium.
The celebration of life service, led by humanist celebrant Anne Roberts, was attended by about 200 mourners.
'Enthusiasm and dedication'
Ms Beattie was in the US as part of her degree course at Buckinghamshire New University, in High Wycombe, where she was in the second year studying air transport with commercial pilot training.
In a tribute released by the university ahead of the service, Ms Beattie's course co-ordinator Shari Peyami said: "Carly had an unbounded enthusiasm and dedication to becoming a pilot.
"Her lively personality and passion for flying made her popular with all of her colleagues and instructional staff.
"Our thoughts and sympathies are with Carly's family. She will be greatly missed."
Her brother attended Morningside School of Music in Edinburgh.
A statement on the school website said: "Daniel studied guitar, piano and music theory with us at the music school and his fantastic nature and sense of humour quickly made him a well-known face, much loved by everyone. He will be very truly missed but never forgotten.
"It is our intention to honour Dan by starting the Daniel Beattie Memorial Award to recognise musicians who show excellent aptitude within Morningside School of Music."
A service was also held earlier at the Sacred Heart Church in Penicuik.