Man who drove over girlfriend in tent avoids jail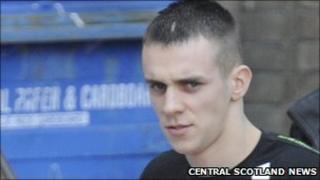 A man who accidentally ran over his girlfriend as they camped with friends on a beach has avoided a jail sentence.
David Owen, 21, was found guilty of taking Louise Graham's car and recklessly running over the tent where she slept, while he was drunk.
Owen was placed on probation for two years, banned from driving for three years, and ordered to perform 250 hours community service.
The incident in 2008, left Ms Graham, 22, with disfiguring scars.
The court had previously heard how the couple, who have since split up, had driven to West Sands in St Andrews with friends.
Ms Graham, from Guardbridge, Fife, told the court, how she fell asleep while Owen and the rest of the group they were with sat drinking cider outside.
She said she then woke up to find the car on top of her.
She was left with burns to her arm, hand and stomach which needed skin grafts and months of treatment, leaving her permanently scarred.
The court heard that when the incident happened Owen demanded that none of the group phone an ambulance because he was scared the police would get involved.
Sentencing was deferred to allow Owen to complete a four month sentence imposed in March for stealing a crate of beer.
Sheriff Charlie Macnair said: "The jury found you guilty of culpable and reckless conduct.
"Had you deliberately run over Miss Graham the sentence would have been a lengthy term in prison.
"But you did take this vehicle when you had no right to do so.
"In a case like this I have to take into account the nature of the conduct and the result.
"I consider that I can, just, deal with this by way of a non-custodial sentence."
Leaving court, Owen said: "I'm happy, I had expected to get the jail."