V&A's Chris Breward to lead Edinburgh College of Art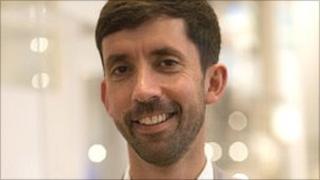 The head of research at the Victoria and Albert Museum has been confirmed as the new principal of Edinburgh College of Art.
Dr Chris Breward will take up the post in September.
He will be the first principal of Edinburgh College of Art following its merger on 1 August with Edinburgh University.
The merger will be backed by £13.8m of new investment from the Scottish Funding Council.
Dr Breward said: "I'm delighted to be joining Edinburgh College of Art and The University of Edinburgh at such an exciting moment.
"The new partnership between two leading institutions offers enormous potential for forging innovative teaching and research relationships that will have impact across and beyond the fields of art, architecture, history of art, design and music."
'Personally delighted'
Donald Workman, chairman of the college board of governors, said: "I welcome the appointment of Dr Chris Breward to lead Edinburgh College of Art at this historic moment."
Professor Sir Timothy O'Shea, Edinburgh University's principal and vice chancellor, added: "I'm personally delighted that Dr Chris Breward will be leading the college into this new era, with all the opportunities for collaboration and creativity that it allows."
The college will join with the university's school of arts, culture and environment to form a new Edinburgh College of Art within the university.
Edinburgh University, founded in 1583, is regularly ranked among the leading 50 universities in the world.
The city's College of Art was founded in 1907 and has about 1,700 full-time students.