Edinburgh hosts Armed Forces Day events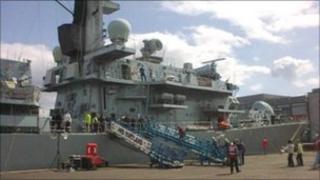 Events marking UK Armed Forces Day on Saturday have begun in Edinburgh.
The third annual Armed Forces Day, dedicated to the nation's servicemen and women, includes tours of HMS Portland, which is moored in Leith.
At 1900 BST on Friday the Red Arrows will perform an aerial display, in their first performance in the city for 23 years.
Up to 100,000 people are expected to enjoy a full weekend of activities running until Sunday.
The Red Arrows will put on the display over the Firth of Forth and visitors will have the opportunity to try out Tornado jet simulators at Ocean Terminal shopping Centre in Leith.
Other highlights will include performances by the Flying Gunners motorcycle display team and the Royal Marine Band.
Royal Mile parade
The main Edinburgh celebrations on Saturday will be attended by the Prince of Wales and Duchess of Cornwall, as well as Scotland's First Minister Alex Salmond and TV presenter Lorraine Kelly, who launched the event last week by travelling to Calton Hill by helicopter before completing an assault course and firing a second One O'Clock Gun.
Street parties and parades are also expected in towns and cities throughout the UK.
On Saturday Charles and Camilla, known as the Duke and Duchess of Rothesay when they visit Scotland, are due to watch the Royal Mile parade, as 2,500 military personnel, both veterans and cadets, march from Edinburgh Castle's Esplanade down to Holyrood Park.
Defence Secretary Liam Fox said Armed Forces Day provided a unique opportunity to pay thanks to the men and women who serve the country with distinction.
He said: "I would especially like to thank the City of Edinburgh for hosting this national event.
"The city has a long and proud military history and provides the perfect setting for us all to say 'Thank you' to our Armed Forces."
George Grubb, Edinburgh's Lord Provost, said: "Edinburgh has a long and proud tradition of honouring its Armed Forces and I urge everyone to come along and enjoy a fantastic weekend in support of our service personnel."
General Sir David Richards added: "As the chief of the defence staff I see at first hand the jobs that the men and women of the Armed Forces do and I can assure you that the recognition and thanks given by the people in communities such as yours on Armed Forces Day goes a long way to keep morale at a high level."