Hole in fence at Edinburgh Airport disrupts flights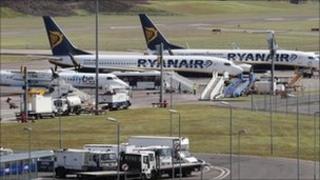 Edinburgh Airport was evacuated and hundreds of passengers delayed after a hole was found in the perimeter fence.
The terminal was evacuated and 11 planes were kept on the tarmac on Tuesday night for about two hours.
Passengers waiting to board planes had to be reprocessed through security. Flights have now returned to normal.
Lothian and Borders Police said an investigation was under way following "an apparent breach of the security fence".
A spokesperson said: "Police responded around 10pm and a number of flights were disrupted as part of the terminal building was closed while security checks were carried out.
"The airport is now back to being fully operational."
Left luggage
Edinburgh Airport spokesman Gordon Robertson said the incident happened at a fairly busy time of night.
He said: "It took about two hours to reprocess passengers through security.
"Those who were meant to take off did, and those who were meant to land did."
He added that some passengers elected to leave the airport without their luggage to avoid any further waiting.
He said the airport would be working with airlines to ensure all passengers were reunited with their luggage later.
Passenger Anna Litwinczuk said she was kept on a plane from Krakow for more than an hour after it landed.
"When my plane arrived cabin crew informed us that we can't get out of the plane because there was some security reason we need to stay in the plane," she said.
"They didn't tell us what exactly."
The SNP MP Pete Wishart also had to stay on his plane after it arrived from Heathrow.
He said: "It was absolutely jam-packed because there had already been quite significant disruption at Heathrow because of the weather.
"A number of flights had been cancelled including my earlier one, so I was actually put on this later flight."