George Stewart and boy, 15, admit killing Nattalie Muir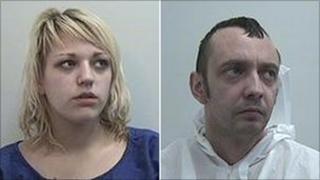 A 15-year-old boy and a man have pled guilty to killing a young mother during a gang attack in West Lothian.
The teenager, who can't be named for legal reasons, and George Stewart, 34, admitted the culpable homicide of Nattalie Muir, 21, in Whitburn.
They are due to be sentenced at the High Court in Glasgow on 23 August.
Emma Merrilees, 20, has already admitted murdering Ms Muir, from Bathgate, by stabbing her in the heart on 11 December 2010.
The High Court in Livingston heard how the "devoted" young mother was stabbed through the heart in an attack organised by the 15-year-old boy.
Ms Muir had broken off her relationship with the teenager after getting pregnant by him and having a termination.
The youth, who cannot be named for legal reasons, repeatedly called her phone when he discovered she had the termination.
Not survivable
The single stab wound inflicted by Merrilees severed an artery causing her to bleed to death within minutes.
The injury was not survivable no matter what treatment was given, the court was told.
Advocate Depute Alex Prentice said Ms Muir began a four-month relationship with the under-age youth after she separated from her three-year-old's father, Thomas Thyne, in June last year.
In October, after the abortion, she resumed her relationship with Mr Thyne.
On the night she was killed, Ms Muir and Mr Thyne were both threatened by the 15-year-old and Stewart on the phone.
Stewart, Merrilees and the youth discussed going to Whitburn to "fight with" the couple.
Mr Prentice said: "George Stewart took an axe from the house and put it in the car. Emma Merrilees took a knife from the house.
"All of the accused set off in the knowledge that an axe and a knife were taken intending to inflict serious injury upon Thomas Thyne and Nattalie Muir.
"The fatal blow was delivered by Emma Merrilees who has pled guilty to murder."
The court heard how Ms Muir and Mr Thyne had gone out from a friend's house into the street in Whitburn after arguing.
She recognized a car pulling up beside them and told Mr Thyne to run for his life.
He was chased by the two male accused but got away.
Ms Muir was caught by Merrilees who punched her repeatedly on the head, seized hold of her hair and stabbed her in the chest.
Mr Prentice said a blind witness Barry Long, whose flat overlooks the scene, heard a woman threatening to stab another.
He then heard what is believed to be the deceased shouting "who are you, like?" before the car was driven off "at great speed".
Graham Sneddon, who got out of a taxi moments later found Ms Muir drifting in and out of consciousness.
Mr Prentice said: "He heard the deceased saying what he thought was the word 'beige', but is much more likely to have been her daughter's name 'Paige'.
"The deceased then informed Graham Sneddon that she had been stabbed and he phoned 999 for an ambulance."
'Chronically immature'
Ian Duguid QC, defending the 15-year-old, said his client was "chronically immature" and could barely read and write.
He had the intellectual age of a seven or eight-year-old, he said.
"He has asked me to express his extreme remorse for the terrible consequences for someone who was particularly close to him at this point in time in his short life," Mr Duguid said.
"He was in a relationship with this girl when he was between the ages of 14 and 15 and the 'pestering' calls were inquiries about her decision to have a termination, which wasn't taken with any significant discussion, rather than malicious."
He added: "There was a certain element of drunken bravado which sadly resulted in someone losing their life.
"He is fundamentally appalled by the consequences of their combined actions that night."
Frank Gallacher, representing Stewart, said his client had also asked him to express his deep remorse.
John Keenan, for Merrilees, said his client felt "shock and remorse" for her actions.
Family statement
Lord Matthews called for social inquiry reports on all three accused.
More than 25 friends and family members attended court to hear the guilty pleas.
Outside the court, Ms Muir's dad Callum, 41, read out a statement thanking the Crown Office, police and victim support staff for their help.
He added: "Nothing will compensate for the loss of our daughter.
"The continued support of family, friends and community shows how much she was thought of.
"We just want to get on with our lives and support our lovely wee granddaughter Paige."