Police Sergeant Paul Greig rape claims 'not true'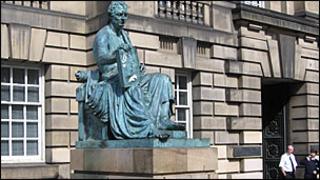 A police sergeant accused of raping two sisters more than 36 years ago has said the allegations were absolutely untrue.
Lothian and Borders police sergeant Paul Greig, 51, is accused of raping the two girls while babysitting them in West Lothian when he was 14 years old.
One of his alleged victims, was said to have been aged between eight and nine and the other between six and seven.
Mr Greig told the High Court in Edinburgh he could only recall babysitting for the girls twice.
Defence advocate Tommy Ross said to him: "The suggestion is that you sexually abused the girls in different ways."
Mr Greig replied: "That is simply not true."
Advocate depute Andrew Stewart QC put it to Mr Greig that he raped the girls while looking after them. Greig replied: "It did not happen, none of this happened."
Mr Stewart then said: "You then threatened the girls and said that if they told anybody what was going on they would be put in a home and their father in jail."
Mr Greig, who lives in Armadale, West Lothian, replied: "Absolutely no way."
He is alleged to have carried out the abuse between February 1974 and February 1975 at an address in West Lothian.
Mr Greig, who joined the police in August 1993, has been suspended since the allegations were made last year.
The trial before Lord Kinclaven continues.