Craig Thomson: Police probe fresh allegations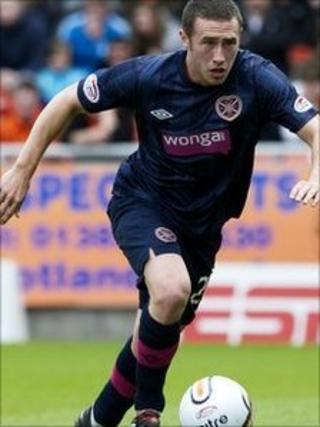 Police have confirmed they are making inquiries into fresh allegations against Hearts footballer Craig Thomson.
He was placed on the sex offenders register earlier this month after he admitted lewd and libidinous behaviour against young girls over the internet.
The club initially stood by him, but he was suspended two days ago.
Officers are looking into information they have received suggesting there may be evidence of another victim.
A Lothian and Borders Police spokesman said: "We are making inquiries into the possibility that another person has grounds for complaint."
The 20-year-old was convicted on 17 June at Edinburgh Sheriff Court for indecent behaviour towards two girls aged 12 and 14 on the internet.
On Friday the Scottish Premier League club said Thomson's "grave error of judgement" was due to "naivety and possible wrong outside influence".
The full-back resumed training at the club with immediate effect.
He issued an apology via the club website, saying that he was "fully aware that I have let everyone down".
Hearts posted two statements on the matter on their website. The first read: "The club views this matter very seriously and does not condone the behaviour of the player. Appropriate action to prevent any further development of unlawful activities has been taken.
"In reaching this decision, the club accepted that there are sufficient mitigating circumstances that provide significant assurance that the player's conduct, no matter how distasteful, was the result of a grave error of judgement due to naivety and possible wrong outside influence rather than anything more sinister and it will not be repeated."
Then, early on Friday evening, the club issued another statement which refers to "outside influences on players and the club".
The club's initial backing of Thomson was widely criticised.
The official supporters' club of the Scottish Premier League outfit, charity Children's 1st and Scottish lawmakers were among those calling for Hearts to take action against the player.
And Hearts' water sponsor cancelled its contract with the club on Monday.
The club then suspended him on Tuesday.
A Hearts spokesman said they were aware of the fresh allegations but were making no comment.