Edinburgh trams: Councillors vote to continue project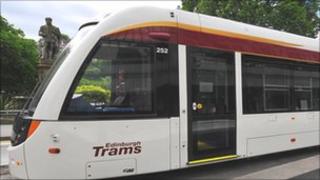 Councillors in Edinburgh have decided to carry on with the city's troubled trams project - but will have to find another £200m to fund it.
During a five-hour meeting, the full council considered a number of options, including scrapping the project.
A majority backed a Liberal Democrat motion to fund the line as far as St Andrew Square at a cost of £770m.
The original estimated cost of the line from Edinburgh Airport to Newhaven was put at £545m.
Four options were put before the council. The first was to continue with the full project but councillors were told the final cost and completion date were uncertain.
Behind schedule
An alternative to scrap the project completely was considered but this would have cost up to £750m.
Councillors could also have backed the scheme from Edinburgh Airport to Haymarket at a cost of £700m but chose the St Andrew Square option with an estimated cost of £770m.
A contractual dispute between the tram company Tie and contractors Bilfinger Berger pushed the project over budget and behind schedule.
Mediation talks are understood to continuing after the initial meetings between Tie and Bilfinger Berger were held in Glasgow in March.
In May, a report published by Edinburgh City Council said work so far had cost £440m - about 80% of the original budget - with huge sections of the line still to be completed.