Travelodge meets Topshop for new Princes Street hotel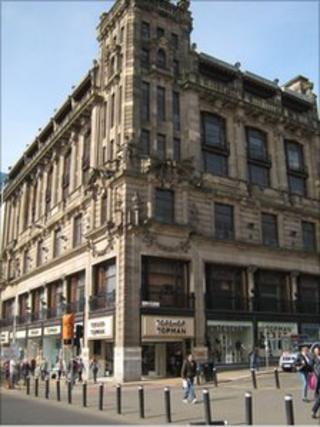 Budget hotel chain Travelodge has announced it is to open a new hotel on Princes Street in Edinburgh.
It is part of a joint venture with retailer Arcadia Group and will be situated above the Topshop store on the capital's famous shopping street.
The 96-room hotel will be Travelodge's 13th in Edinburgh, with another currently under construction on Queen Street.
Both are scheduled to open in summer 2012 and will create 40 new jobs.
The Category B listed building in Princes Street which will house the new hotel was Scotland very first steel frame building.
Travelodge said it had agreed a 35 year lease with Arcadia Group Ltd, which represents a £10m investment.
Prestigious location
The other 85-bed hotel on Queen Street is being funded by Standard Life Investments and is being built in a vacant office block owned by Standard Life's UK Property Fund.
Guy Parsons, Travelodge chief executive, said: "Growth in Edinburgh has been one of our major priorities. We have committed around £60m to new hotels in the city in the last few years.
"The demand for low cost, good quality accommodation in Edinburgh is a growing market and we are still looking to further invest in Scotland's capital.
"Arcadia forward funding our new hotel in one of the most prestigious locations in Edinburgh just demonstrates how flexible the Travelodge development model is."