Carol Jarvis murder trial hears of fingernail DNA match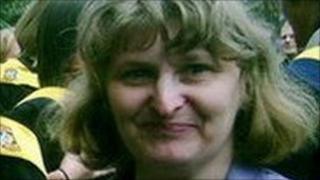 The fingernails of a woman accused of murdering her lover's wife contained DNA matching that of her alleged victim, a court has heard.
Rita Heyster was detained after the body of Carol Jarvis, 47, was found in the basement of her home in Bathgate, West Lothian in September 2009.
The High Court in Edinburgh heard police took DNA swabs from Ms Heyster's hands.
She denies murdering Mrs Jarvis and blames her lover Harry Jarvis, 61.
The court has heard that for days before the mother-of-four's body was found, Ms Heyster, 57, had been living in a garden hut at the house in Bathgate.
The victim's husband, Mr Jarvis, had said he planned to leave his wife for Ms Heyster.
In court forensic scientist Nicola Martin was questioned about the tests carried out on the swabs, which had been taken and had shown the presence of "biological material" on and under the fingernails of Heyster's right hand.
The DNA profile matched that of Mrs Jarvis, the trial heard.
Intimate contact
Ms Martin said the DNA had to have come from a "rich source" - such as a body.
Solicitor advocate Ray McMenamin defending, suggested that Mrs Jarvis's DNA could have been transferred onto Heyster as a result of intimate contact between her and Harry Jarvis.
Ms Martin agreed that was possible but claimed direct contact between the two women was more likely.
Ms Heyster, from Peebles, denies murder and attempting to defeat the ends of justice by trying to cover up the crime.
It is alleged that between 11 September and 15 September 2009 at 6 Balbardie Crescent, Bathgate, West Lothian, she murdered Carol Jarvis, "by means unknown".
Then, it is claimed, she failed to notify the authorities of the death, wrapped the dead body in a blanket and hid Mrs Jarvis in the basement of the house.
The trial continues.