Diabetes patient hails 'life changing' cell transplants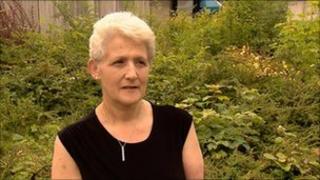 The first woman in Scotland to receive donated pancreatic cells to treat her diabetes has described the procedure as "life changing".
Kathleen Duncan, who has type 1 diabetes, no longer requires insulin after having a pancreatic islet cell transplant.
She is among patients being treated as part of a UK-leading transplant programme based in Edinburgh.
Health Secretary Nicola Sturgeon has also praised the programme.
She met Mrs Duncan when she visited the cell therapy suite at the Scottish National Blood Transfusion Service's (SNBTS) Islet Isolation Laboratory in Liberton.
The pioneering transplant programme was launched in 2009 and has now carried out three islet cell infusions in two patients.
People with type 1 diabetes often have problems managing their blood sugar and as a result can collapse without warning when their blood sugar is low, known as hypoglycaemic unawareness.
The transplant process involves the complex preparation of islets extracted from a deceased donor's pancreas.
These are then injected into diabetes patients at the Royal Infirmary of Edinburgh's transplant unit, allowing them to then make their her own blood sugar.
Mrs Duncan, who was diagnosed with type 1 diabetes more than 30 years ago and had been injecting insulin up to four times a day, said: "Before this treatment I felt absolutely helpless, as I had no awareness of my blood sugar levels or if I was about to collapse.
"It didn't just affect me, it has been years of worry for both my husband, Chris, and my son, David.
"I was so terrified that David would come home from school to find me unconscious that I would go out all day, knowing that if I collapsed in a public place, I would be taken to hospital."
Mrs Duncan said her life had totally changed since the transplants.
She added: "I have more control over my diabetes, the confidence to do everyday things and can lead a practically normal life.
"Chris and David are now more relaxed and don't have to worry about me just so much.
"I feel extremely lucky that matching donors were found and privileged to be the first person to have this treatment."
Donor plea
In Scotland about 28,000 people currently have type 1 diabetes, with about 2,000 experiencing hypoglycaemic unawareness.
Ms Sturgeon praised the work of staff at the SNBTS lab and the Transplant Unit at Edinburgh Royal Infirmary.
She added: "This service has shown how it has the potential to transform the lives of people with this condition.
"The ideal is to make them no longer dependent on insulin injections.
"Sadly, like all transplant programmes - the main challenge is the shortage of donor organs. That's why, during UK Transplant Week, I would repeat my calls for people to sign up to the NHS organ donor register so that more lives can be saved and turned around."
Mr John Casey, from the Scottish Islet Transplant Programme, said: "This is an important step in the treatment of diabetes in Scotland.
"The improved quality of life for both patients is excellent and we hope we can now offer this form of cell therapy to many, many more Scottish patients."