Edinburgh Airport in security goods recycling bill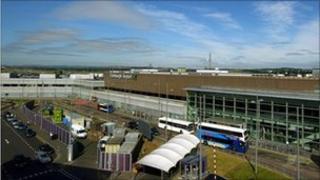 Edinburgh Airport spent £15,000 disposing of and recycling items taken from passengers at security last year, it has been revealed.
It has been worked out that 21.7 tonnes of goods, the weight of an average fighter jet, were surrendered by passengers at the busy hub.
The figures come as a new campaign was launched to urge passengers to arrive prepared for security inspections.
The message will be on billboards and bus shelters across Edinburgh.
About 10,000 postcards are also being distributed across the city and a further 16,500 postcards are to be given out at the airport.
Kevin Brown, Edinburgh Airport's managing director, said: "This exciting campaign asks our passengers to help us help them by coming to the airport prepared for security.
"Please take a minute to think when packing, check our website for all of the guidelines and information you need and help us make the airport experience the best it can be."