Rita Heyster cleared of Carol Jarvis murder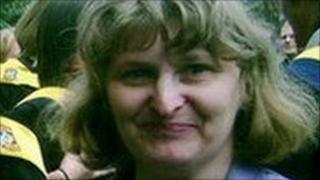 A woman who lived in her lover's garden hut has been cleared of murdering his sick wife.
Rita Heyster, 57, was arrested after the body of Carol Jarvis, 47, was found under the floor of her home in Bathgate, West Lothian, in 2009.
After legal debate, Judge Lord Brailsford ruled there was insufficient evidence to convict her of murder.
A jury at the High Court in Edinburgh will now have to decide if she is is guilty of trying to cover up the death.
Mrs Jarvis's husband, Harry Jarvis, 61, is expected to give evidence next week.
The trial previously heard Ms Heyster was living in a shed in the garden of the Jarvis home for weeks.
The jury has seen love notes, said to have been written to her by Mr Jarvis, which included suggestions that they should go away to start a new life together.
The court has also heard that after his wife's disappearance prompted the Jarvis children to contact police, Mr Jarvis tried to pass off Ms Heyster as his missing wife when officers searched the house.
'Weird and creepy'
Mrs Jarvis suffered from a range of medical difficulties which sometimes resulted in her being virtually bed-ridden.
She also took medication to counter the threat of fits and had numerous tests as doctors tried to find the cause of her problems.
Doctors were unable to say how she died in spite of two post-mortem examinations.
At the start of the trial, daughter Kimberley Jarvis told how she discovered Heyster was living in their garden hut.
"It was weird and creepy," said the 20-year-old student.
Ms Heyster had denied murder and attempting to defeat the ends of justice by trying to cover up the crime in September 2009.
Although she has been found not guilty of murder, it is alleged Ms Heyster failed to notify the authorities of the death, wrapped the dead body in a blanket and hid Mrs Jarvis in the basement of the house.
The 57-year-old has lodged papers in court blaming Harry Jarvis for any wrong doing.
The trial continues.