Overgrown hooves left pony in 'great pain'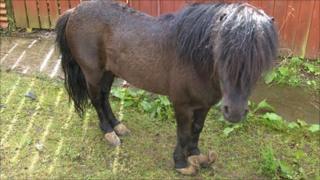 The owner of a pony found in Fife with severely overgrown hooves is being sought by animal welfare officers.
The male Shetland pony was found on a small area of land next to Balbeggie Avenue, Thornton, in "a great deal of pain".
The Scottish SPCA said the animal had been "suffering over a prolonged period of time" before it was discovered on Sunday.
It was found to have developed a deformity and had to be put to sleep.
Steven Gray, a Scottish SPCA inspector, said: "This pony has been caused a great deal of pain and suffering over a prolonged period of time.
"The information we have is the pony was found wandering along a lane by Balbeggie Avenue around two weeks ago and was taken in by someone locally.
"We are keen to trace the person responsible for this neglect and urge anyone with information to come forward.
"Someone may know who owned this pony or may even have simply seen it being kept in a nearby field or paddock recently."
He added: "Unfortunately, the veterinary advice was the pony had developed a severe deformity due to a lack of treatment and care.
"This made the possibility of the pony making a full recovery extremely unlikely so the decision was taken to end his suffering and alleviate any further distress."