Estate offers Edinburgh Zoo pandas bamboo feed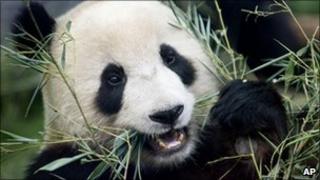 A historic castle has offered its bamboo plantation to help feed two giant pandas destined for Scotland.
Breeding pair Tian Tian and Yang Guang will be the first to live in the UK for 17 years when they come to Edinburgh Zoo under an agreement with China.
Kelburn Estate and Country Centre, in Ayrshire, has offered the zoo unlimited, free access to its crop.
The pandas, who each munch 20kg (44lb) to 30kg (66lb) of bamboo every day, will need a regular supply of food.
Zoo officials are considering Kelburn's offer, as well as others from around the UK, ahead of the arrival of Tian Tian and Yang Guang, later in the year.
The Earl of Glasgow, Patrick Boyle, who lives on the Kelburn estate, said: "When we heard that Edinburgh Zoo was having difficulty in locating sufficient quantities of bamboo we immediately got in touch as we have plenty to spare.
"I'm happy for the zoo to have as much of our bamboo as it needs at no cost - being able to help keep these wonderful creatures in Scotland is reward enough for us."
Number of offers
The 13th Century Kelburn Castle and 3,500-acre estate has about 51 sq m (549 sq ft) of three types of bamboo, which thrives due to a relatively mild coastal climate, because of the gulf stream.
The bamboo was brought to Kelburn by the earl's great grandfather, who was the governor of New Zealand between 1892 and 1897.
A spokesman for the Royal Zoological Society of Scotland, which owns Edinburgh Zoo, said: "Since the announcement that giant pandas will be coming to Edinburgh Zoo, we have had offers from a number of sources throughout Scotland and the wider UK, of which Kelburn Estate is one.
"Given that pandas consume around 20kg-30kg a day, no single voluntary source will be able to meet the scale of what is required."