Dig under way at Civil War site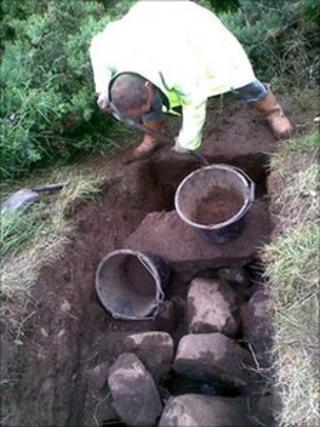 A dig at the site of the last major Civil War battle in Scotland has begun, to learn more about the historic clash.
The battle of Inverkeithing, in 1651, was a pivotal win for Oliver Cromwell's forces, from where they launched the final push to conquer Scotland.
Now, 360 years on, experts hope to uncover what may be the best preserved Civil War remains north of the border.
They also hope to learn more about what is seen as an important, yet ignored, battle.
Volunteers backed by a professional archaeologist have begun a survey to uncover artefacts, which is hoped will lead to a full dig next year.
The battle took place when 4,000 Cromwellian troops crossed the Forth from Leith and set up camp on Ferryhills at North Queensferry, in Fife, from where they launched the offensive.
James Lawson, of North Queensferry Heritage Trust, the group leading the initial survey, said: "Unlike perhaps any other battle in Scotland's history, this one was decisive.
"In losing the field that day, all hope of Scotland's defence was lost and for the next 10 years.
"Scotland was subjugated, enslaved and placed under English military rule until Cromwell's death and the Restoration of King Charles II in 1660."
The exact location of the battle of Inverkeithing has long been the subject of debate among historians, but the recent discovery of earthworks at Ferryhills, built as a defence wall by the invading army, led to the project to explore the site further.
The survey is being supported by Fife Council's archaeological unit, along with quarrying company Tarmac, which owns the site.