John Swinney visits Leuchars after RAF base axed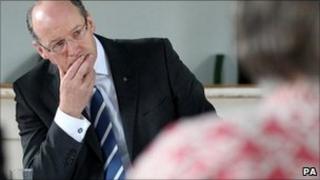 Scotland's Finance Secretary John Swinney has visited Leuchars to discuss its future following UK government moves to close its RAF base.
The Fife military centre lost its fight to retain RAF status.
It will become an Army base, with its Typhoons leaving for Lossiemouth in 2013 and the Army moving in later.
Mr Swinney said there should be as "little impact as possible on the local community and economy" during the changes.
The SNP minister met with members of the RAF Leuchars Campaign Group, as well as business and community leaders, at the Henderson Hall in Leuchars.
Afterwards he said: "The UK government's decision to withdraw the RAF from Leuchars is greatly disappointing to the Scottish government and the local community.
"The Scottish government will be pressing the UK government strongly to live up to their responsibilities and engage with - as well as provide extra funding to - the individuals, businesses and communities affected by their announcement.
"As many business and community representatives have made clear today, it is important that the transition of RAF Leuchars to an Army base is as smooth and as quick as possible, and that it has minimum impact on the local community and economy."
The defence review recommendations, announced by Defence Secretary Liam Fox on Monday, has resulted in Lossiemouth in Moray becoming Scotland's only RAF site.
The overhaul of air bases is part of a wider review of MoD operations, which will see large reductions in troop numbers but more resources for reserve forces.