Edinburgh Airport drop-off charge under scrutiny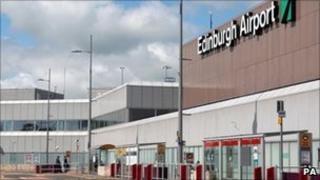 The £1 vehicle drop-off charge at Edinburgh Airport has come under scrutiny by the European Union, it has emerged.
Conservative MEP Struan Stevenson has written to officials seeking clarification over whether the fee was permissible under EU law.
The EU Transport Commissioner has said the issue will be examined.
Edinburgh Airport said they were not the first to introduce the charge and other airports had similar schemes.
But in response to Mr Stevenson, the EU Transport Commissioner, Siim Kallas, said: "To our knowledge, no similar charge exists at any other airport in Europe, privately or publicly owned."
Commissioner Kallas also said that the EU's transport directorate would raise the drop-off charge with the European Observatory on Airport Capacity, which has the remit to address the question of access to all of Europe's airports.
Mr Stevenson said: "Edinburgh Airport's £1 fee for drivers dropping off passengers at the terminal building was a shock to the city's beleaguered travellers when it was introduced last year.
"Now it looks like the airport's operators have shocked the rest of Europe too by pioneering these money-raking antics.
"Though Edinburgh Airport was amongst the first to exploit drivers in this way, a number of similar schemes have cropped up in British airports recently.
"I'd welcome any light the EU's transport directorate can shed on the appropriateness of such creeping charges.
"Better still, it would be good if airport operators could give their customers a break, and drop them altogether."
A spokesman for Edinburgh Airport said: "Edinburgh Airport was not the first airport in the UK to introduce a charge for dropping off passengers.
"When we created our £1 and free drop off zones, six other UK airports had introduced or were introducing similar schemes.
"These have been well reported and we're unsure as to why the European Union is unaware of their existence.
"We're sure that these other airports have seen the benefits we have in reduced congestion, extra capacity and a safer and more pleasant environment for our passengers.
"If our politicians were truly committed to assisting 'beleaguered travellers' they would be lobbying the Westminster Government to halt the increases in Air Passenger Duty, which affects all passengers travelling through our airport.
"It not only deters Scots from travelling, but it deters visitors from flying to our country and is damaging to our vital tourism industry."