Police arrest three seamen in Shetland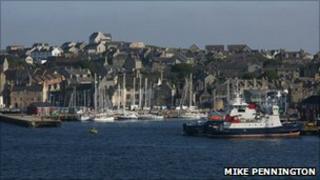 Police have issued a warning to seamen in Shetland after arresting three people for drink-related offences while in charge of a vessel.
The arrests came as marine traffic increased with the arrival of more than 50 Tall Ships in Lerwick for the latest stage of the 2011 race.
Reports will be sent to the procurator fiscal in connection with the offences.
Northern Constabulary said none of the participants in the Tall Ships Race was involved in the incidents.
In a statement, the force said Shetland police officers had in the previous three days arrested three people "for acting in a professional capacity on a vessel whilst over the prescribed limit".
It also said it would "continue to deal robustly" with drink or drug offences involving people in charge of a vessel.
It continued: "Northern Constabulary would like to remind all masters of ships, pilots of ships and professional seamen that it is an offence in Scotland for any such person to be in charge of a vessel whilst unfit through drink or drugs.
"The Tall Ships event has obviously brought with it an increase in marine traffic around the Lerwick harbours.
"As such, it is vitally important that all those in charge of vessels are free from impairment to allow them to be able to respond to instructions from the Port Authority control whose ultimate aim is to keep people safe whilst on the water."
The Tall Ships had been due to leave Shetland for Stavanger on Sunday, but that had been delayed until Monday because of high winds.