Dinham jailed for National Library of Scotland theft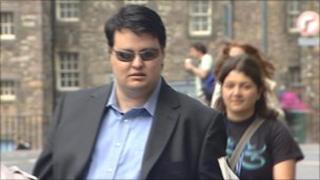 An IT boss who admitted embezzling £500,000 from the National Library of Scotland has been jailed for two years.
IT boss David Dinham, 33, stole the money over a four-year period from 2006 when he had control over major budgets at the historic institution.
Dinham, from Edinburgh, admitted the embezzlement charge at a hearing at Edinburgh Sheriff Court in May.
The offence took place between 6 September 2006 and 9 June 2010. He was sentenced at Edinburgh Sheriff Court.
National Library of Scotland staff are believed to have spotted financial irregularities and called in the police.
In his role, Dinham was understood to have been in charge of a £1.8m project to store the library's digital archive.
When spoken to by police Dinham, who grew up in Australia, said the transactions were for "personal purchases".
Defence agent Duncan Hughes said Dinham, who has degrees in IT and accounting, had struggled with depression and low self-worth.
He asked the sheriff not to jail Dinham and highlighted his mental health difficulties.
Mr Hughes said: "He made one purchase on the credit card to buy a fairly small item, realised there were no checks and continued to purchase items.
"He is a highly intelligent and high achieving man but has just not managed to shake off this depression and has suffered from it since he was 17 years old."
Recover money
Sheriff Alistair Noble said: "You have pled guilty to an extremely grave offence.
"A breach of trust was involved and the matter extended over a number of years.
"A very significant sum indeed was involved."
Sheriff Noble added that custody was the only option.
Martyn Wade, national librarian and chief executive of the National Library of Scotland, said: "This was a complex and sophisticated crime committed by a senior manager and budget holder who had a detailed knowledge of internal processes and procedures.
"Our systems identified discrepancies and as soon as these were confirmed, appropriate action was taken and the police were notified.
"Internal procedures were immediately reviewed and strengthened.
"A planned upgrade to a new financial system has recently been completed, which should prevent any future misappropriation of this kind.
"We also note the court's earlier decision to make a confiscation order in respect of David Dinham's assets.
"To date over £150,000 of stolen funds has been recovered and we shall, in tandem with the Crown Office, be continuing legal proceedings against David Dinham to recover as many funds as possible."
Founded in 1689 as the library for the Faculty of Advocates, the NLS holds almost 400 years worth of Scotland's written history and culture.