Emaciated dog found in Edinburgh car park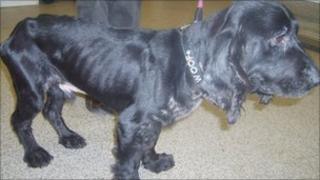 An emaciated dog with a chronic skin condition and a "painful" ear infection has been found abandoned in Edinburgh.
The black, male spaniel was discovered by a member of the public on Saturday evening in a car park near Trinity Academy by Craighall Road.
When he was found he was wearing a brown collar with "woof" on it but there was no identity tag or microchip to identify his owner.
Officials said he was "extremely thin", weighing only 10kg.
'Lovely natured'
Scottish SPCA Inspector June Chalcroft said the dog was between four and seven years old, 4kg underweight, with a chronic skin condition and painful ear infection.
"Whoever owned him was not feeding him adequately and did not seek the veterinary treatment he desperately needed," she added.
"Although he was terrified when we picked him up, he has now come out of his shell and he is a lovely natured little dog."
The dog is being cared for at the charity's Edinburgh and Lothians Animal Rescue and Rehoming Centre in Balerno, where staff have named him Boris.
Abandoning an animal is an offence which can see owners banned from keeping animals for a fixed period or life.