Kevin Mathers jailed over sex attack on teenager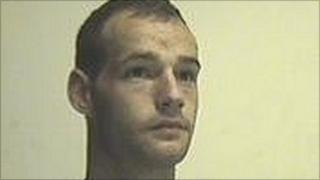 A sex attacker has been jailed after threatening to slit the throat of a 16-year-old girl who he attacked on an Edinburgh footpath.
Kevin Mathers, 23, earlier admitted assaulting and attempting to rape the student last June.
The teenager was taken into bushes and warned that she would be slashed if she shouted or screamed for help.
Mathers, from Edinburgh, must serve a minimum of three-and-a-half years and will be supervised when he is released.
He was sentenced at the High Court in Edinburgh.
The girl had been out walking the family dog on a footpath leading to Telford Path, near Ferry Road, at about 22:00 on 30 June 2010 when she was attacked.
She managed to escape when a couple walked past the scene and she pushed her attacker away.
Degrading ordeal
Lord Pentland told Mathers: "You have pled guilty to a despicable, sexual attack on a young woman, a complete stranger to you, whom you encountered her as she was walking her dog in a public place."
The judge said the victim was subjected to "a terrifying and degrading ordeal".
"It was violent, sustained and depraved," he said. "The gravity of the crime is further aggravated by the fact at the time you were drunk and had taken drugs."
Lord Pentland said it was clear Mathers was of a violent and aggressive disposition and had limited powers of self control or respect for authority.
A report prepared on him said he posed a high level of risk to the public if at liberty and the judge added: "I am in no doubt you are a highly dangerous man."
High risk
Lord Pentland imposed an Order for Lifelong Restriction on Mathers and ruled that he must serve a minimum of three-and-a-half years in prison before he becomes eligible to seek release. If the parole board decides to free him he will be kept under close supervision.
The judge said that because of the high level of risk Mathers presented he was likely to remain in prison for "many years".
Advocate depute Ashley Edwards told the High Court in Edinburgh that Mathers was a complete stranger to his victim when he carried out the violent sexual attack on the teenager as she walked her dog.
Mathers fled from the scene of the attack and was seen scrambling down an embankment without footwear.
Police were called to the scene and trainers were recovered in the area. CCTV footage was also found showing the attacker with no trainers on his feet.
Defence counsel Mhairi Richards QC said Mathers had "limited intellectual functioning" and no recollection of the incident.
In a letter Mathers said he was "disgusted" at what happened.