Edinburgh Zoo panda man Iain Valentine to return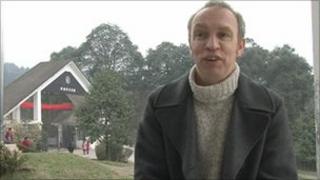 The man behind an agreement to bring pandas to Scotland, who was suspended from his job at Edinburgh Zoo, is to return to work.
Iain Valentine, director of education at the zoo, was one of several staff suspended in April this year amid "very serious allegations".
An investigation has now been completed into Mr Valentine and he is to return but in a different role.
He is to start his new post as director of conservation and research in August.
In May The Royal Zoological Society, which runs the zoo, said there was "no disciplinary case to answer" against chief operating officer Gary Wilson, who had also been suspended.
It found he had been subjected to "a deeply unpleasant and malicious smear campaign by person or persons unknown".
Hugh Roberts, chief executive of the Royal Zoological Society of Scotland: "The Royal Zoological Society of Scotland has completed a disciplinary investigation into Iain Valentine and a full hearing has been held, the details of which are, and will remain, confidential.
"From 1 August, Iain Valentine will be taking up a changed role in which he will focus on animal conservation and research.
"The Board is implementing significant change across the organisation that allows staff to play to their individual strengths to deliver a strong future for the RZSS, Edinburgh Zoo and the Highland Wildlife Park.
"While recent times have been challenging, we believe that we are in a strong position to proceed with renewed determination and confidence.
"It is in no-one's interest that we dwell on the past. Rather it is crucial that we put this behind us and move on."
The zoo has previously moved to dismiss fears that the deal to bring the pandas to Edinburgh could be affected by the suspension of senior managers.
Pandas Tian Tian and Yang Guang, who were both born in 2003, are being brought to Edinburgh under a historic agreement with China.
They will be the first giant pandas to live in the UK for 17 years.