Prison term for 'callous' conman Kenneth Tait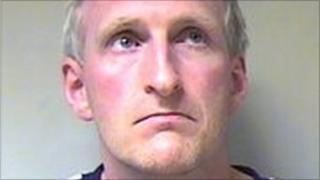 A conman who preyed on vulnerable women for cash has been jailed for six years and four months after a judge condemned his "cold, calculated callousness".
Kenneth Tait, 44, from Manchester, duped a series of women out of a total of £155,229 in Edinburgh and at Glencare, Perth, between 2000 and 2007.
One victim even agreed to sell her home under extreme pressure from him.
He was sentenced at the High Court in Edinburgh after earlier admitting carrying out three frauds and a theft.
Outside the court, nurse Lesley Munro, 54, from whom he stole £104,160, said: "I am relieved. He literally stole everything.
"I am here for all the other victims. It is a brilliant outcome. Yes, I have lost my house, I have lost everything but he has got justice now."
Lord Tyre told Tait he would have faced an eight-year prison term for his crimes, but for his guilty plea.
The judge said he took into account the length of time over which he perpetrated his crimes and the determination with which he pursued them and the severe effect on the victims.
"The degree of cold, calculated callousness which you exhibited to these women, who looked to you for friendship and love, is shocking," he told Tait.
The court heard Tait at first appeared "charming, affable and very supportive" of his targets including those who had left unhappy relationships.
But once he gained their trust he engaged in "a ruthless campaign to get funds" using emotional blackmail, claiming he was in danger or ill, and offering financial incentives alleging he had lucrative investment opportunities.
Marriage proposals
The court heard he appeared to wield huge influence over some victims and had no qualms about leaving them "financially and emotionally wrecked".
Tait had originally faced a further 12 charges involving a total of 10 people and in excess of £300,000, but the Crown accepted his not guilty pleas to those charges.
He married in 2002 but separated from his wife in 2006.
During the marriage he engaged in relationships with other women who he duped into believing he was single or separated. He asked two of them to marry him.
He claimed to work as a self-employed private investigator, but failed to keep up his registration with his professional body and there were no records of him working in a full-time capacity since 2003.
Tait, a registered bankrupt, was caught after his sister went to police and named others she believed had been conned by him.