Edinburgh Airport boss resigns after year in post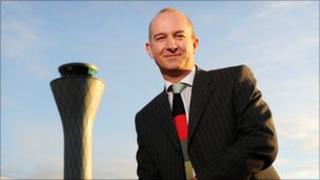 The managing director of Edinburgh Airport has resigned after a year in post.
Kevin Brown is starting a new job next month as chief executive officer at North Queensland Airport Group, which is based in Cairns, Australia.
BAA said Jim O'Sullivan, who currently works at Heathrow, has been appointed to take over at the helm of Edinburgh Airport on 1 September.
BAA said Mr Brown was leaving a "healthy airport".
Mr Brown, who is moving with his wife and six-year-old twins, will be responsible for two airports, Cairns and Mackay.
Colin Matthews, chief executive of BAA, said: "Kevin Brown leaves a healthy airport that is performing well in difficult circumstances.
"We wish him well in his exciting new role and thank him for the substantial contribution he has made to BAA at Edinburgh, Aberdeen, Southampton and Heathrow Airports."
'Difficult circumstances'
Edinburgh Airport is currently the fifth largest airport in the UK by passenger numbers.
Mr Brown said: "Only a once in a lifetime offer could take me away from Edinburgh Airport and this is it.
"Working in Australia has been a lifelong dream of mine and it's made extra special by the fact that I have family in Cairns.
"I'm hugely thrilled at the opportunity but I will miss Edinburgh Airport. It has a fantastic team and it has been a privilege working with them."
Mr O'Sullivan is currently BAA technical standards and assurance director.
He spent 14 years at British Airways including time as chief project engineer for the Boeing 777, general manager of Concorde, and technical and quality director.
Mr O'Sullivan said: "Kevin has done a fantastic job in his tenure at Edinburgh.
"It has bucked the general trend in UK aviation by growing and it is currently best airport in Europe for its size.
"I hope that I can continue its development and assist the team in realising the growth strategy they have created and giving Edinburgh and Scotland what it deserves, a diverse choice of routes and a world class facility."
Jackson Carlaw, Scottish Conservative transport spokesman, said the change offered the opportunity to re-think drop-off charges introduced at the airport last year.
"Forcing drivers to pay merely to drop off family or friends at the airport was a bad move, it treated them like cash cows and was universally condemned."
He said he would seek an early meeting with Mr O'Sullivan.