Track points 'heavily worn' at Waverley derailment site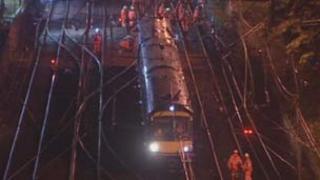 Part of the points on the rail line at Edinburgh Waverley where a train derailed has been found to be "heavily worn" in a preliminary examination.
The driver and the signalling staff were cleared of any fault by the Rail Accident Investigation Branch (RAIB).
The empty train came off the tracks as it was passing through Princes Street Gardens last week.
It ran for about 90m before coming to a stop, and the derailed carriage caused damage to the track.
The preliminary examination found there was also some damage to the underside of the train. No-one was hurt.
The RAIB found that the derailment happened because the flanges of the wheels climbed over the left-hand switch rail of points 167B, which was "heavily worn".
Network Rail examined the other switch rails in the Princes Street Gardens area, and did not find any others in a similar condition.
The RAIB's investigation is independent of any investigations by the safety authority, the Office of Rail Regulation.
The RAIB will publish a report, including any recommendations to improve safety, at the end of its investigation.