Edinburgh Telford College lecturers end strike action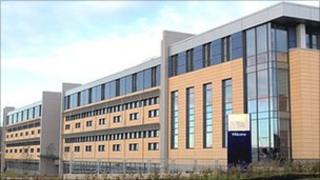 Lecturers at Edinburgh's Telford College have called off planned strike action after the threat of compulsory redundancies was lifted.
Members of the Educational Institute of Scotland (EIS) were due to walk out on Thursday over plans to cut 50 full-time jobs, including 25 lecturer posts.
In June, staff passed a vote of no confidence in principal Miles Dibsdall over the plans.
They staged a one-day strike and had promised about 50 more strike days.
EIS Assistant Secretary Ken Wimbor said: "The EIS will continue to work constructively with the management at Edinburgh's Telford College to deliver a better future for the college, its staff, students and the communities that it serves.
"The removal of the threat of compulsory redundancies is a positive step which lecturing staff fought hard to secure, with strong support from students and the wider community.
"While all sectors of education have been badly hit by the budget-cutting agenda, it is essential that we continue to work constructively to deliver the best for all learners and staff.
"The agreement that has been reached at Telford shows what can be achieved, even in the face of the current financial challenges across the public sector."