Gannet chicks rescued after being blown into Forth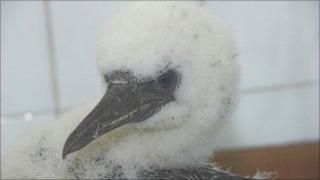 Three gannet chicks blown off their nests on the Bass Rock in the Firth of Forth have been rescued.
The gannet chicks, found in the sea in North Berwick, are only about three weeks old and are unable to fly.
They are at the stage where they sit on the nest and stretch their wings out, building up their strength in preparation for flight when old enough.
However a gust of wind picked them up and dumped them in the sea where they were unable to fend for themselves.
The Scottish SPCA is now caring for the chicks at the charity's wildlife rescue centre near Dunfermline, Fife.
Centre manager Colin Seddon said: "Thankfully these chicks were scooped up by passers-by and they are all doing fine.
"We will care for them for around six weeks until they are able to fly and then we'll take them back to North Berwick to be released."
The Scottish SPCA recently called on the ancient tradition of guga hunting to be banned.
The hunt takes place annually on Sula Sgeir where around 2,000 gannet chicks, or guga, are taken to be eaten as a local delicacy.
The guga are killed by being beaten over the head with a heavy implement and the charity wants the practice to be outlawed.