Roslin Glen sex assault prompts police appeal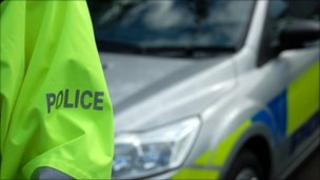 Police in Midlothian are appealing for witnesses following a sexual assault near Bonnyrigg on Wednesday.
The victim, who is in her 30s, was shopping in Bonnyrigg town centre around 1100BST when she accepted a lift home by the suspect, who she did not know.
He drove her to a car park at the top of Roslin Glen, where the assault took place.
Following the incident he drove the victim back to Bonnyrigg.
Police said the suspect is described as white, between 40 to 60-years-old, 6ft tall, thin build, unshaven and with black spiked hair.
He was wearing a black t-shirt, black trousers and black shoes with a black watch on his right wrist.
The car he was driving is described as a green Ford, possibly a Focus or Fiesta.
A police spokesman said: "While the victim was not injured, she was understandably distressed as a result of her ordeal, and we are appealing for any information that can help us trace the suspect.
"Anyone who was in the area of Bonnyrigg town centre yesterday morning, who noticed a woman in a bright pink jacket getting into a green Ford car, should contact police immediately.
"Similarly, anyone else who saw the car in the area yesterday, or who recognises the description of the suspect, should also get in touch."