Newly hatched ducklings rescued from Howden Hall Road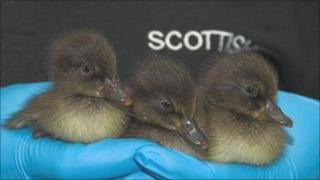 Three wild ducklings have been found running about an Edinburgh suburb after their mother laid eggs in a garden.
The Tufted ducks have been rescued from Howden Hall Road in the city's Liberton area.
They are now being cared for by the Scottish SPCA at a centre in Fife. It is understood the mother duck was possibly scared away by a local cat.
Tufted ducks have usually finished breeding by the end of July, however these ducklings hatched in mid August.
Colin Seddon, Scottish SPCA centre manager, said they had noticed the breeding season for many wild animals and birds appeared to be extended this year.
He said: "Whether this is down to the wet and mild weather we've been having lately or whether there's another reason for it, we're not sure, but we are seeing a lot of late youngsters coming into our care including mallards and hedgehogs.
"These ducklings were found scattered around a garden in the middle of the day so it's possible that mum has been scared off by a cat.
"Luckily, the owner of the house was able to gather them up and contain them safely in a greenhouse until our ambulance driver arrived.
"We'll be caring for these babies until they're old enough to fend for themselves and then we'll release them back on to the water."